[adrotate banner="4″]
Here is Part 1 of the CCR1072-1G-8S+ review in case you missed it!
CCR1072-1G-8S+ Ultimate BGP Performance test
After many days of testing, Part 2 is finally here! Welcome to the stubarea51.net BGP gauntlet. We subjected the CCR1072 to different types of network torture stress testing. Continuing on from our initial review, we chose BGP as the first way to test the limits and capacity of the CCR1072-1G-8S+.
Here is an overview of our lab environment to test the new CCR
CCR1072-1G-8S+
CCR1009-8G-1S-1S+
CRS-125-24G-1S+
x86 VMs on ESXi 6.0 for upstream BGP peering
(2) ESXi 6.0 Hosts with 20 Gb (4×10) connectivity
Multimode 10 gig SFP+ using 50/125 OM3 fiber
All RouterOS devices were loaded with the latest stable code (6.30.1 at the time of testing)
Network Design of the StubArea51 LAB setup for BGP testing
For this series of testing, we took our two ESXi 6.0 hosts and built a number of VMs using RouterOS and Ubuntu to supply the 1.21 Gigawatts 3.6 Million routes we would need to beat up on the CCR1072 for a few days. If you're not familiar with the RIPE Routing Information Service (RIS) project, go here to take a look at the routing tables we used. Because the route server does not load routes nearly as quickly as a router, we used a CCR-1009-1S-1S+ to take in a single copy of the 457,461 routes in the Palo Alto IX public BGP table (July 2015). Then we set up eBGP peerings between the CCR1009 and each of the 8 BGP upstream VMs to give the CCR1072 plenty of peers.  We also put two iBGP VMs in the same AS as the 1072 so we could test the route reflection capabilites of the CCR1072.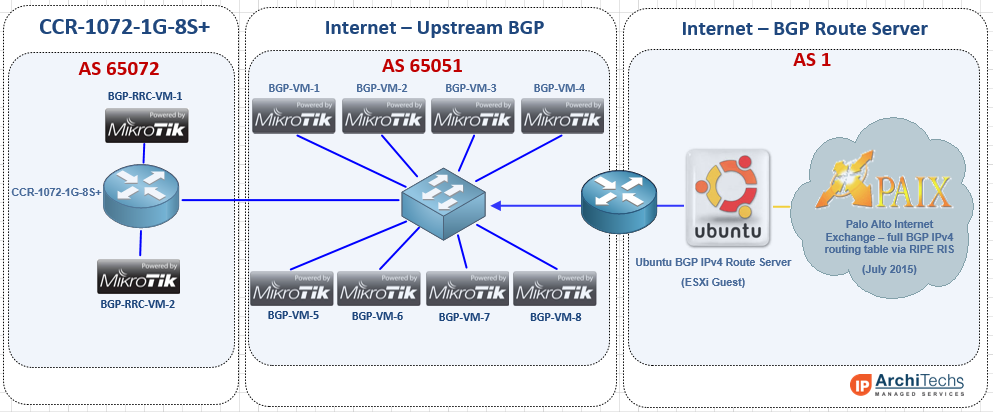 Concept of Testing in v6.30.1
One of the first things we wanted to test on the CCR-1072-1G-8S+ was how quickly it handled large BGP routing tables. It is probably a good idea to take a slight detour here and mention that in version 6 of RouterOS, the BGP process is not multi-threaded, so it is limited to one core. As such, there are improvements MikroTik is working on to make pulling in large BGP tables faster and more efficient. Here is that discussion in the MikroTik forums:
http://forum.mikrotik.com/viewtopic.php?t=69931
Next generation of code – RouterOS v7
After exhibiting and presenting at the USA MUM 2015 in Miami, we had a lot of time to talk to MikroTik and get some insight on what is happening with optimizing BGP in RouterOS. MikroTik has seen major BGP performance improvements in v7. I seem to remember a slide that was presented at the MUM with some specific performance numbers on v7 but I couldn't find it. I did come across a slide from the 2014 MUM in Russia that talks about the routing improvements in v7:
This presentation on CCR Tips and Tricks by Janis Megis from that MUM is available here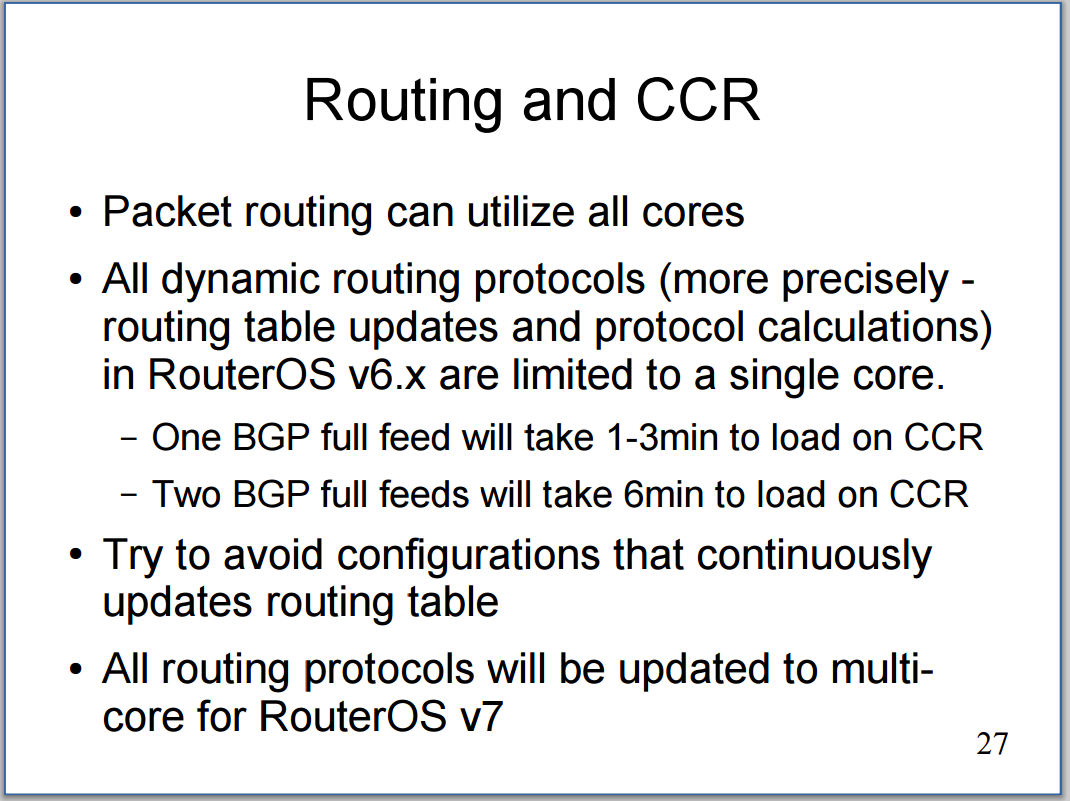 Testing Results
Here are the results of the BGP testing we have done that list:
How many peers are used
How many total routes are taken in
How long it took to fully converge
VRF performance results (if applicable)
Route-reflection performance results (if applicable)
Public BGP Table – IPv4 with 1 upstream peer (457,461 routes – 1 Minute 33 seconds)

Public BGP Table – IPv4 with 2 upstream peers (914,922 routes – 3 Minutes 25 seconds)

Public BGP Table – IPv4 with 4 upstream peers (1,829,844 routes – 7 Minutes 8 seconds)

Public BGP Table – IPv4 with 8 upstream peers (3,659,688 routes – 13 Minute 17 seconds)

Public BGP Table – IPv6
Unfortunately, we did not have a way to test a full IPv6 BGP table in our lab. We are working on enabling that for future testing and will update once we have some results.
BGP Performance in a VRF – IPv4 with 8 upstream peers (3,659,688 routes – 15 Minutes 45 seconds)

BGP Route Reflection – 2 clients (914,922 routes sent –  1 Minute 53 seconds)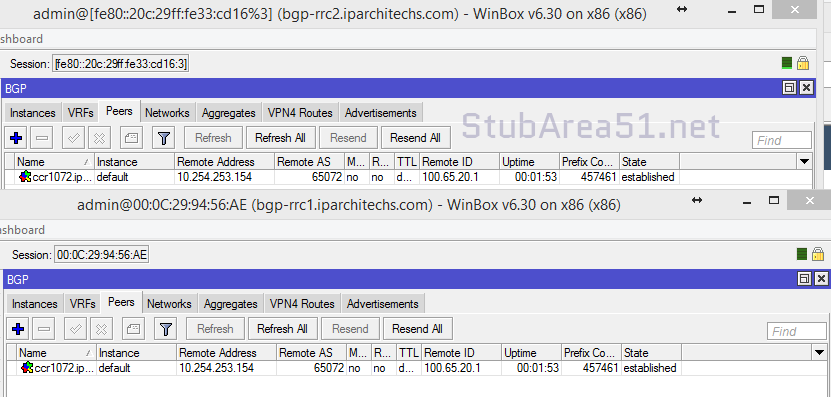 Conclusion
The CCR-1072-1G-8S+ is a fantastic BGP core or edge router. It is able to take in a full table in just over a minute, and is able to take in two tables (which is the most common type of BGP peering deployment we see) in just over 3 minutes, which puts on equal or better footing with a Cisco ASR 1001/1002 at a fraction of the cost.
We see the CCR-1072-1G-8S+ as an extremely strong candidate to use as an Internet BGP edge or core router. A pair of the 1072 routers would also make great WAN aggregation routers for an enterprise data center. Considering most large enterprises don't go much beyond 10,000 to 15,000 BGP routes in their private MPLS routing tables, the CCR1072 would be able to converge almost immediately and provide stable and scalable throughput to the core.
The next phase of testing we will move into involves throughput testing using iperf on the 1072 with 20 gbps, 40 Gbps and 80 Gbps load tests – we will use BGP/OSPF and MPLS/VPLS configurations to look at performance differences for different types of networks.
CCR-1072-1G-8S+ available soon @

http://www.roc-noc.com/mikrotik/routerboard/CCR1072-1G-8Splus.html
Stay Tuned!
Coming next – MikroTik CCR1072-1G-8S+ Review (Part 3 ) 20 Gpbs, 40Gbps and 80 Gbps routing performance testing over BGP/OSPF/MPLS.