[adrotate banner="5″]
Why we chose PPPoE as the next test
First of all, thanks to everyone for all the positive feedback, comments and questions about the CCR1072-1G-8S+ testing we have been posting in the last few months.  Even MikroTik has taken an interest in this testing and we have gotten some great feedback from them as well.
We received more questions about the PPPoE capabilities of the CCR1072-1G-8S+  than any other type of request. Since we have already published the testing on BGP, throughput and EoIP, we have decided to tackle the PPPoE testing to understand where the limits of the CCR1072-1G-8S+ are. This is only a preview of the testing as we are working on different methods of testing and config, but this will at least give you a glimpse of what is possible.
30,000 PPPoE Connections !!!!

Overview of PPPoE connections and CPU load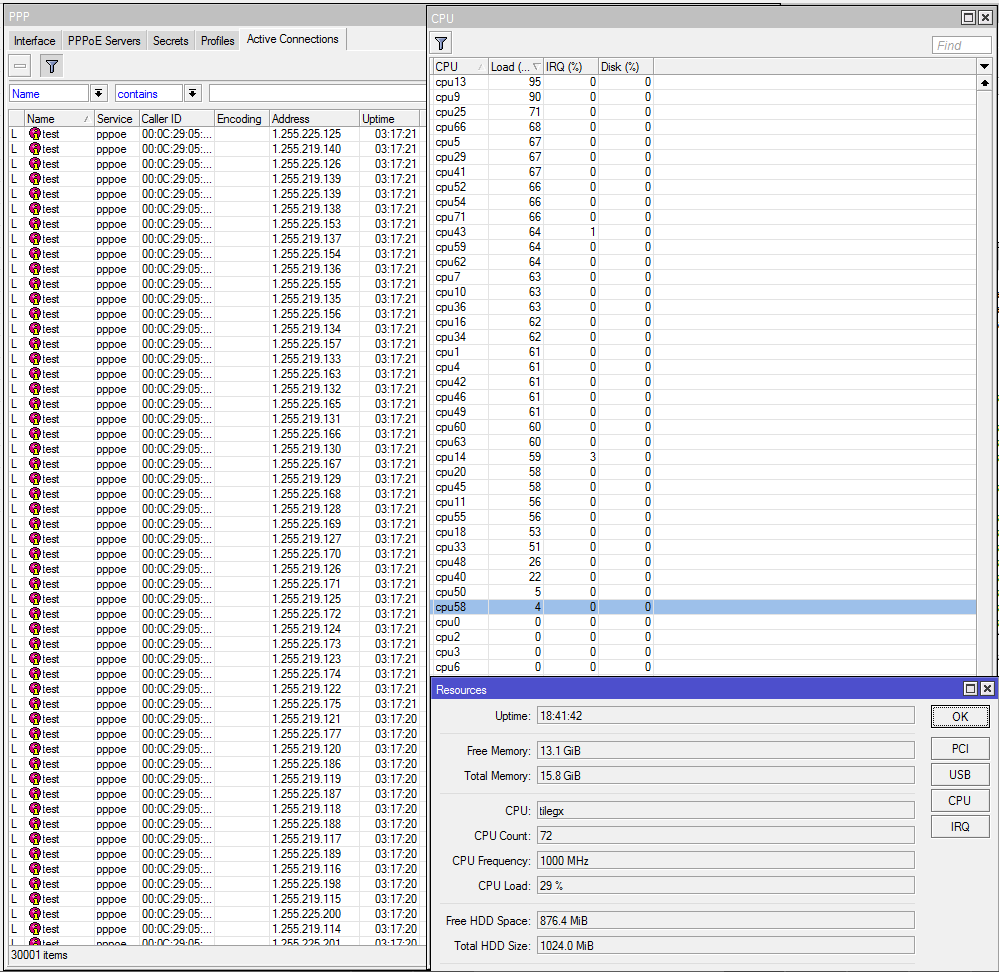 PRTG Monitoring
We have started using PRTG in the StubArea51.net lab as it makes monitoring of resource load over time much easier when we are testing. Check it out as it is free up to 100 sensors and works very well with MikroTik
https://www.paessler.com/prtg/download
PRTG CPU Profile 

PRTG PPPoE connection count over time
It took us about 20 minutes to reach 30,000 connections…we are working on tuning the config to see if we can shorten the time it takes to build the connections. In the graph here, you can see it go form a 24 hour stable load of 30k connections donw to nothing as we prepare for a load test. At about 10:07 AM is when we started the full load test and you can see the time it takes to get to 30k.

More on the way!!!
This is just a small preview of our full PPPoE testing. We will be completing testing and should be publishing the results within the next week.