MikroTik has come a long way since the first release of RouterOS v7 beta.

One of the long-awaited features is improved BGP performance and the ability to leverage multiple CPU cores.

Testing BGP performance is a long process of lab and prod evaluation, so we decided to run some quick and basic tests to get a baseline.

When the CCR2216-1G-12XS-2XQ was released and MikroTik entered the world of 100G, we ordered some right away to test and just got them in the lab a few days ago – the results are below.

Hope this is helpful and look for more BGP perf tests in the coming months!


The BGP testing lab


TLDR; 2.1 million routes learned and forwarding in 46 seconds and withdrawn in 44 seconds. This was tested under a 25 Gbps load on both routers with a cpu load of 12%.

Lab overview: The lab consists of (2) CCR2216 routers running ROSv7.2 stable connected to a ProxMox hypervisor that runs (4) Linux route generators and MikroTik CHRs (also on 7.2) acting as border routers. The specific connectivity is in the overview drawing below.

IPv6: We are currently developing a route generator that will inject IPv4 and IPv6 routes into the test route but it's not out of development yet. We will include full table perf tests for IPv4 and IPv6 in the future.

PDF is here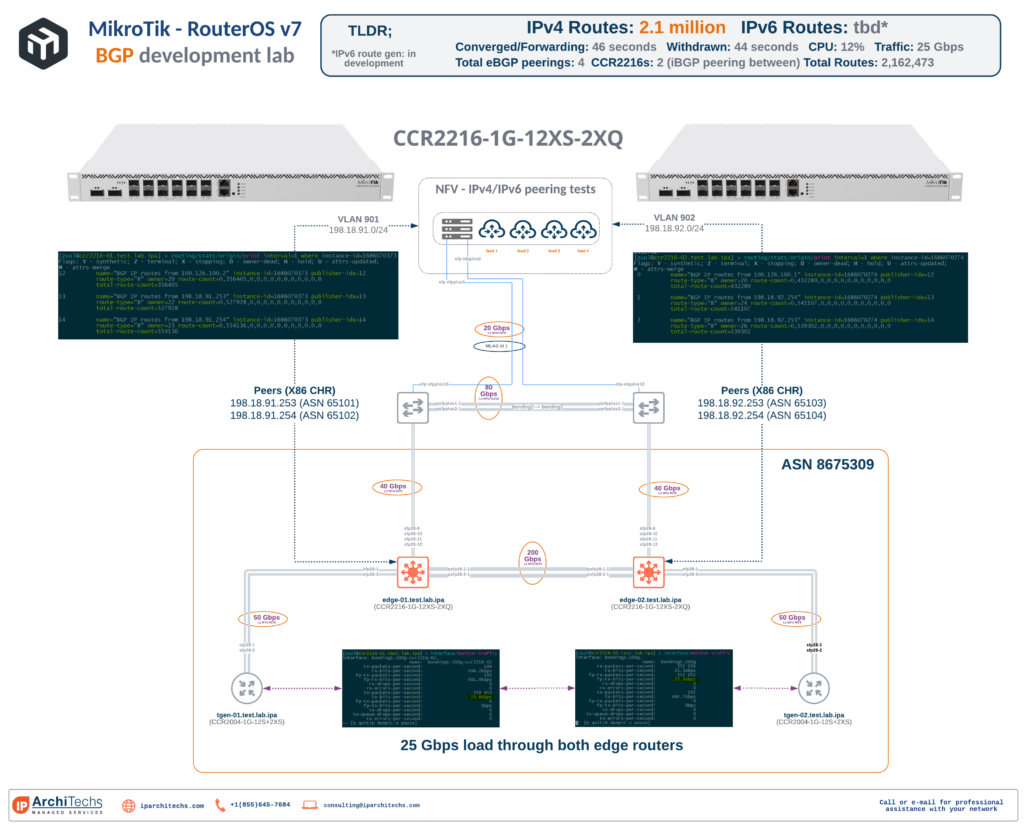 RouterOS v7 100G development lab

This lab is part of a larger effort to test all areas of MikroTik RouterOS v7 on a variety of different hardware. We've been putting together this lab for a while and here is the topology so far.
PDF is here